The iPad Pro 12.9 (2021) is a spectacular tablet, with its headline feature arguably being the M1 chipset that powers it. It has a Mini LED screen, with a remarkably high 1,600-nit peak brightness, a 120Hz refresh rate, and a 2048 x 2732 resolution. It's crisp, bright, vibrant, and all-round impressive. If you collected lots of 4K Blu-ray discs and want to get the movies off of 4K Blu-ray discs and onto the iPad Pro (2021) for watching on the go, you've come to the right place. This article will shows you how to quickly and easily rip and put 4K Blu-ray movies on iPad Pro. Just follow it.
As we all know, the Apple iPad Pro (11‑inch and 12.9‑inch) doesn't come with any Blu-ray drive for playing 4K and 1080P Blu-ray discs. However, there are many programs out there that allow us to convert 4K Blu-ray (Disc, Folder, ISO) movies to iPad Pro compatible formats. Acrok Video Converter Ultimate is the best tool to decrypt protection from 4K Blu-ray discs and convert 4K Blu-ray movies to iPad Pro supported video formats with fast encoding speed and excellent output quality. With it, you can also rip 4K Blu-ray to play on any smartphones and tables as you like. The equivalent Mac version is Acrok Video Converter Ultimate for Mac.
Free download 4K Blu-ray Ripper for iPad Pro
Just get it now and here I share you a step-by-step guide:
How to make 4K Blu-ray movies playable on iPad Pro
Tip: Video formats supported by iPad Pro: HEVC, H.264, MPEG‑4 Part 2, and Motion JPEG
Step 1. Import 4K Blu-ray movie
Insert the 4K Blu-ray disc into your computer's Blu-ray drive and click the "Load Disc" button on the top left to select and load the 4K Blu-ray movies you want to watch on iPad Pro 11, or iPad Pro 12.9. Blu-ray ISO, Blu-ray folder and common video formats are also supported. After the movies are loaded, you can preview them on the right viewing window and adjust volume or take snapshots freely.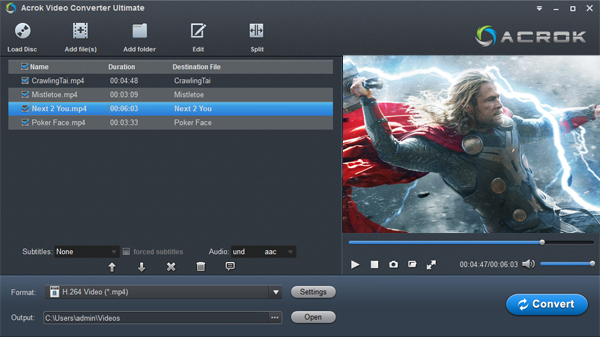 Step 2. Choose iPad Pro supported format
Click Format column to choose the iPad Pro supported format for output, H.264 MP4 is one of the best supported formats by iPad Pro, so you can choose Common Video -> H.264 MP4 Video (*.mp4), with this format you can play 4K Blu-ray movies on iPad Pro smoothly. Basically the "Apple" > "iPad Pro Video (*.mp4)" is highly recommended here.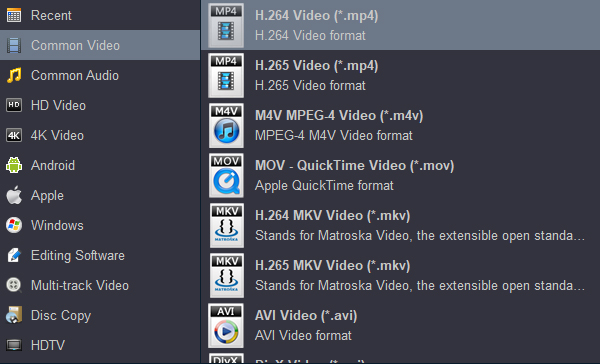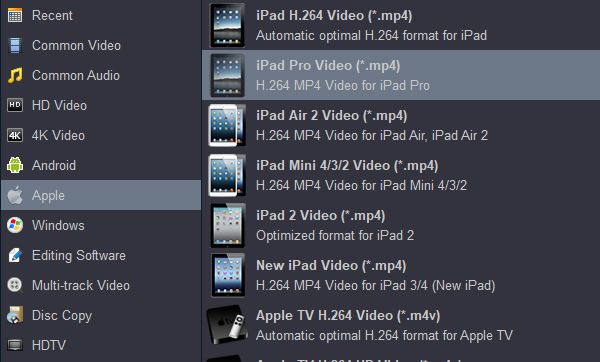 Tip: If you think the video quality this not suitable for your iPad Pro, you can first choose any one of the provided type, then change the settings. Please remember the file size is based more on bitrate than resolution which means bitrate higher results in bigger file size, and lower visible quality loss.
Step 3. Start ripping your 4K Blu-ray movies
After all necessary settings, simply click the Convert button ont the main interface of the best Blu-ray ripping software to start ripping the added 4K Blu-ray movies to iPad Pro compatible videos. Wait for the conversion to complete and click Open to get the converted videos instantly. After that, sync them to your iPad Pro and you can watch them on the move. Just enjoy your movies!
Tip: Sync ripped Blu-ray movies to iPad Pro (2021)
1.) You need to have iTunes and your iPad Pro set to synchronize to your computer with iTunes. See Secrets of iTunes or ask at the Apple Store if you need help; you probably set this back when you bought your iPad Pro.
2.) When you connect your iPad Pro to your computer, click on its icon on the left side of iTunes.
3.) Click on "Movies" along the top bar in iTunes.
4.) Be sure "Sync Movies" is checked to copy your movies into your iPad Pro.
An iPad Pro will only hold about as many movies as it is rated in GB. Therefore, a 128GB device might hold 15 4K Blu-rays. This means that you probably won't be able to copy your entire 4K Blu-ray library to your device at once, and you will have to select which movies you want at any one time.
5.) Check "Automatically include all" if your device has enough memory (look along the bottom for a bar graph), or don't check it and select below which movies you want recorded into your iPad Pro.
6.) Click "Sync" at the bottom, and the movies will copy into your device. It will take a few minutes for each movie.
7.) You may select different movies or each of your devices at the "Movies" tab along the top.
8.) To change the movies on your device, connect your device, change the selections under the Movies tab, and hit Sync again. it will take a few minutes per new movie to copy them.